You need a new look for your wooden floors in Maidenhead
So choose the Maidenhead Floor Sanding Company!
friendly, reliable family firm
20 years of  restoring floors from every age and condition
repairing boards and blocks; sanding and resealing for a hard-wearing finish.
                And all with the best advice and a free assessment.
                          Take the first steps towards your new floor today!  
                                            Contact the Maidenhead Floor Sanding Masters 
TRUSTED BY THESE WELL KNOWN BRANDS AND HUNDREDS MORE
The town's prosperity grew from the building of the 13th century bridge (rebuilt in stone in 1777), creating trade through linking both sides of the Thames.
As an important staging post on the road from London to Bath, the town had many inns, including the then Greyhound
in the High Street. In 1649, the captured Charles the First was allowed to bid his final farewell to his children in 1649.
These inns provided a vital service - as travellers were understandably reluctant to travel at night through Maidenhead
Thicket, a favoured haunt of that 18th century scourge: the highwayman.
Brunel's 'Sounding Arch' railway bridge of 1838 has the widest-ever arches constructed in brick. It was immortalised by Turner in his 'Rain, Steam and Speed' of 1844.
Nearby Bray remains famous for its Vicar who managed to stay in post from the reign of Henry the Eighth through to that of Elizabeth by changing his faith from Protestant to Catholic and back again. Simon Aleyn can be admired for his survival strategy (if not his principles) at a time when other priests were losing their livings, heads or both.
As the famous ballad goes:
'And this is law I will maintain,
Until my dying day, Sir.
For whatsoever King may reign
I'll be the Vicar of Bray, Sir.'
He was played by Stanley Holloway - sporting a fetching wig - in the eponymous 1935 British movie. Whether or not the great man sang a ditty or two, this is one film that remains firmly in that overfilled category of obscure and forgotten.
Latest News, Recommended Articles & Tips
Is creating a wood floor worth the mess?
Unless you are a passionate DIY-er, the prospect of restoring wood flooring may be something you have toyed with, and then dismissed as too challenging. Or maybe you have always dreamed of a stylish, sleek hardwood floor in your home, but the thought of all the mess involved in sanding and varnishing floor boards is a step too far. The dust will get everywhere, right?

Well, you will be delighted to hear that left to professionals, creating and restoring wood flooring is far more straight-forward than you imagine. Not least as with the right expertise and equipment,
both remedial work on your floor and the new surface can be achieved speedily and in a contained way.

Will I have to resand regularly?

You can also forget the worries about having to commission re-sanding and re-polishing every 2 or 3 years (as some less scrupulous firms would have you believe).

Clearly, it depends on how much of a hammering your beautiful hardwood floors take – a succession of pet claws, stiletto heels, dragged furniture and food spills will eventually mark even the toughest and most durable finishes.

But for a start, in those circumstances, your wood floor will stand the test of time better than a carpet might – as they can drag, snag and stain all too easily. Plus, even if you do have a scuffed, dented or scratched wood floor, it is possible to carry out isolated repair work to restore a flawless finish without completely sanding and varnishing the entire surface.

If your wood floor has been lovingly sanded and varnished by a firm who can handle the specialist equipment with expert ease, that gorgeous wood floor could be created quickly and will stay resilient and attractive for a long time. It may be 10 to 15 years before you need to restore your wood floor.

And if you are planning on staying in your home a long time, or you are keeping on top of a wood floor in commercial premises, there is even better news. No matter how many times the hardwood floor sanding and varnishing is done, the boards won't lose their strength or integrity.

Mess and danger in the wrong hands

We need to give a note of caution here. Floor sanding and varnishing can be extremely messy – and in fact downright dangerous – if dust and chemicals are not dealt with correctly. Or, if the heavy specialist sanding equipment is used by enthusiastic amateurs.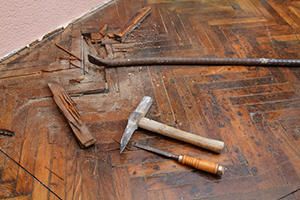 If you want the minimum mess and the longest possible durability for your beautiful wood floor, contact The Floor Sanding Experts. That way, the tears in your eyes won't be because of dust, but from pride when you see the end result.